INTRODUCING SMARTHUB
Life is fast, and it can be hectic, but paying your bill doesn't have to be complicated.
With our SmartHub web and mobile app, it won't be. 
---
What is SmartHub and what's in it for you?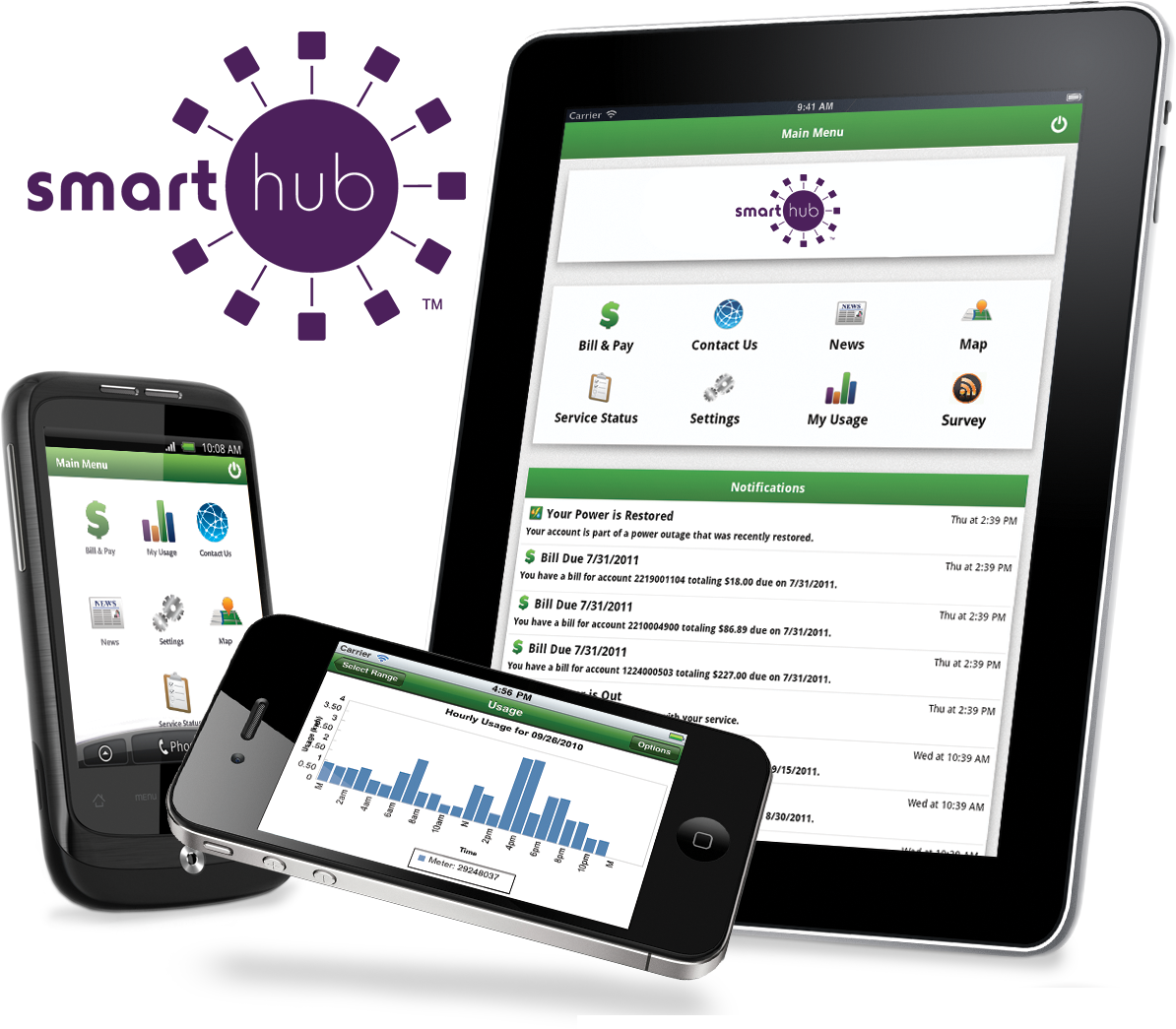 You may have heard about SmartHub, our innovative tool for account management, but what can it do for you? SmartHub can help you take control of your account like never before.
SmartHub has several features that make managing your account as easy as possible. Whether through the web, or your smartphone or tablet (Android or iOS), you'll be able to pay your bill, report outages, contact customer service and get the latest news.
As soon as you log in, you'll be able to view your billing history and make a payment with just a couple of clicks. You'll be able to see your current bill, along with bills from the previous months.

Making payments through SmartHub is fast and easy. The first time you make a payment either through the web or through your mobile device, you'll be able to securely store your payment information for future transactions. The next time you need to pay your bill, it will only take a couple of clicks.
You'll also be able to see important notices with SmartHub. You'll be able to select how you want to be notified about your bill, including email and text messaging.
Reporting a service issue is a snap with the SmartHub mobile app. There's no need to call the office, just let us know about the issue with a few clicks. You can also contact us for customer service requests or with any questions you may have. You can now contact us at any time from anywhere.
How will you register for SmartHub?
Shelby Energy is now operating through a new billing and payment system called SmartHub. In order for you to continue to receive an electronic bill, as well as pay your bill online, you are required to register as a new user through SmartHub.
• When you get to the SmartHub login screen, click the New User?
• Signup to access our Self Service Site link at the bottom of the screen.
• Use your account number to register for SmartHub.
• After you have successfully registered with SmartHub, you'll be emailed a temporary password to login for the first time.
• The first time you log in, you'll be asked to create your new password.
• Once you register for your online account, you will need to update your payment options. Please note - Auto Pay members will need to enter their debit/credit card information into the new SmartHub system.
• At the end of the registration process, we encourage you to select our paperless billing option so you can receive your new bill immediately, no matter where you are at.

How To Register (Web)
How to Register (Mobile)  

If you have any questions or issues with the registration process, you may contact us by sending an email to smarthub@shelbyenergy.com or by calling 800-292-6585. You can also check out the FAQ page below.
Reading your Bill   Sample New Bill   FAQ   Payment Options